Los Angeles is a massive, sprawling city with endless things to see and do. It can be overwhelming trying to decide what to tackle, especially on your first visit. The best way to maximize your time is to book a shuttle or limo tour to whisk you seamlessly between LA's top attractions.
Hollywood Walk of Fame – Stroll Among the Stars
The iconic Hollywood Walk of Fame stretches along 15 blocks of Hollywood Boulevard and Vine Street and honors over 2,700 entertainers with coral and charcoal stars. Wandering along the sidewalk reading names and snapping photos of your favorite celebs' stars is a quintessential LA experience. Have your knowledgeable driver point out stars you recognize as you cruise by landmarks like the TCL Chinese Theatre, Dolby Theatre, and El Capitan in the comfort of your private shuttle.
Griffith Observatory – Sweeping Views with Skyline-to-Sea Panoramas
Perched on the slopes of Mount Hollywood, Griffith Observatory offers incredible views of the LA basin, Hollywood sign, and downtown skyline. Visit the Samuel Oschin Planetarium for shows narrated by celebrities revealing secrets of the cosmos. Explore exhibits on planetary science, astronomy, and more. Then relax on the lawn outside with a picnic while soaking up the panoramic views only accessible via the winding roads in the Hollywood Hills that our experienced drivers can expertly navigate.
Santa Monica Pier – Rides, Games, and Oceanfront Fun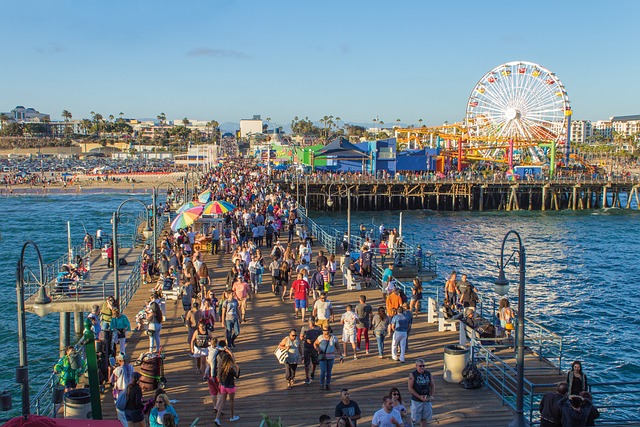 First opened in 1909, the Santa Monica Pier is bustling with energy. Ride the solar-powered Ferris wheel, play carnival games, and take a spin on the historic 1911 Looff Hippodrome carousel. Splash in the Pacific Ocean waves or snack on funnel cake and other boardwalk favorites. With its countless attractions, a shuttle makes it easy to kick back and fully experience the nostalgic atmosphere of this iconic California pleasure pier without having to find parking.
Getty Center – European Art Meets Architectural Wonder
Discover European art, American photography, and sculpture gardens at this gorgeous museum complex set dramatically atop a hill in the Santa Monica Mountains. In addition to works by Monet, Rembrandt, and Van Gogh, you'll find architectural wonder in the white travertine marble buildings complementing the natural setting and incredible city views. Avoid parking hassles at this world-class but remote institution thanks to shuttle drop-off right at the front entrance.
Venice Beach – Funky Shops and Eclectic Boardwalk Scene
Venice Beach embodies the quintessential Southern California vibe with its neon-colored shops, unique street performers, and beautiful beachside setting. Check out the public basketball courts, Muscle Beach outdoor gym, local artists market, and lively boardwalk where you can rent bikes or rollerblades. The people watching is also prime in this neighborhood known for its eclectic characters. Our shuttle services make it easy to hop between the action of the beach, Washington Boulevard shops, and Venice canals with ease.
Rodeo Drive – Shop Like an A-Lister
The mere mention of Rodeo Drive conjures images of wealth and glamour. This posh three-block Beverly Hills street is the epicenter for luxury shopping, dining, and star sightings in LA. Indulge like an A-lister as your group hops between designer boutiques like Chanel, Prada, and Cartier and enjoys a gourmet lunch at a celebrity hotspot all courtesy of a relaxing, swanky limo ride.
Dodger Stadium – Soak In Baseball History
Catch a Dodgers game at this legendary stadium, the third oldest in baseball, while reminiscing on the days of Sandy Koufax, Kirk Gibson, and Jackie Robinson. From your seat take in views of downtown LA, the San Gabriel Mountains, and the ravine the stadium is built into. Arrive refreshed and ready to cheer when we provide direct stadium shuttle service right to the front gates from your hotel.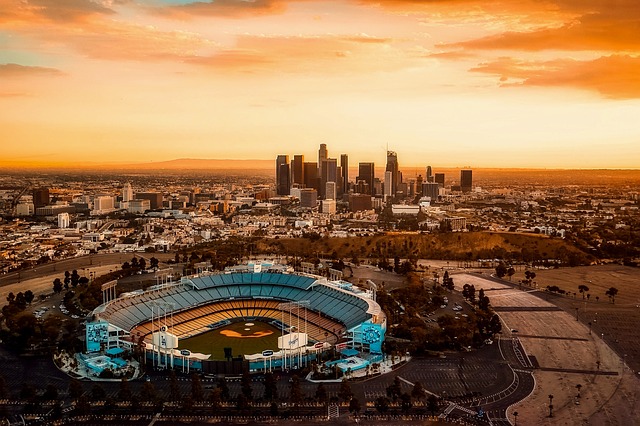 The Grove – Al Fresco Shopping and Dining
The Grove offers premier outdoor shopping, dining, and entertainment in LA. Wander through the fountain-centered plaza and check out boutiques like Nordstrom and Anthropologie. Enjoy celebrity chef restaurants and cocktails on a patio. With a central location, it's a perfect spot for pickup or drop-off on any LA itinerary courtesy of our shuttles.
Walt Disney Concert Hall – Architectural Icon with Amazing Acoustics
The Walt Disney Concert Hall's sweeping stainless steel curves make it an architectural icon. Designed by Frank Gehry, the interior was meticulously designed for acoustical perfection. Attend a performance by the LA Philharmonic under state-of-the-art audio technology in this downtown venue. Let your shuttle drop you off right at the red carpet entrance for a magical night of music.
TCL Chinese Theatre – Historic Hollywood Movie Palace
This iconic 1927 movie palace still premieres major films on Hollywood Boulevard. Pose with Superman, Marilyn Monroe, and other costumed actors beneath the famous ornate Chinese pagoda-style exterior and the cement imprints of Hollywood stars. Make it your first or last stop on an LA highlights tour via our comfortable, convenient shuttle vehicles.
With so many things to experience in Los Angeles, a shuttle or limo tour ensures you can relax and uncover the very best of the city. Contact us today to book your customized LA itinerary!